Skirtings and
technical profiles
Döllken Profiles is one of the world's leading manufacturers of skirting products. Our products are geared exclusively towards end users, allowing us to deliver clear benefits for our customers. Our product range satisfies the most exacting requirements, while our system for supplying high-quality skirting materials quickly is unique anywhere in the world.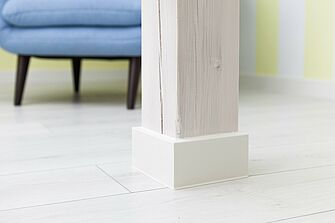 Multipurpose skirtings
The universal Döllken Cubu, EP60, S60 and S100 skirtings are produced using a unique co-extrusion technique. The base is a high-density fibreboard made from certified coniferous timber, while the wear-resistant polyolefin-based covering lends the skirting matchless practicality and aesthetic appeal. Döllken skirtings are environmentally friendly, as demonstrated by their GreenGuard Gold certification. Thanks to Döllken's unique system of cutting skirting to length using a strip cutter, they are also exceptionally clean, practical and quick to fit.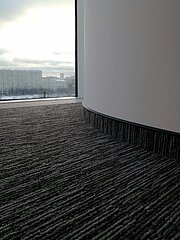 Skirtings for carpets and textile
Döllken skirting for carpets is surprisingly practical. And it's flexible, too: it can be fixed to pillars with a diameter of 150 mm or more, requires no additional accessories or fittings, and allows you to create a floor covering of any height. The exceptional quality of our products is a result of the high-quality materials we use, which satisfy the most stringent European standards, and our partnership with the Swiss company Uzin, a leading manufacturer of gluing systems.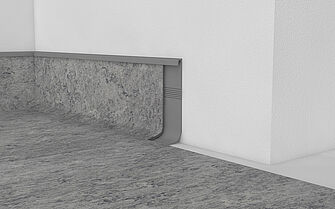 Skirtings for medical facilities
Döllken profiles for medical facilities offer a flexible approach to a responsible job. They create a seamless transition from the floor covering to the walls in clean rooms in hospitals, clinics and diagnostic centres. Individual and integrated profiles available.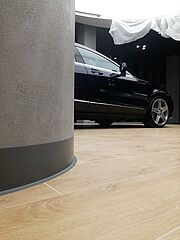 Roll-up skirtings
Döllken roll-up skirtings are highly recommended in Russia, where they are used in hundreds of schools and nurseries. At 50m long, they are ideal for fitting to round columns and walls; the angles are formed from the skirting itself.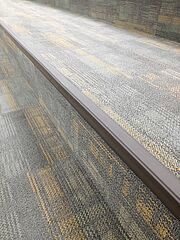 Step profiles
The latest collection of Döllken step profiles do more than allow you to create floor coverings for steps. They also deliver a high anti-slip coefficient of R10, high-contrast colours and fast fitting. And – thanks to their special fluorescent patches – they glow in the dark, too!
Design
Design quality demands expectations
That means that we are committed to design expertise and work towards it every day, to always be able to offer you the most relevant new designs.