Gloss Levels
Playing with light
The effect a surface has depends strongly on how it behaves in the light. Depending on the material, color and texture, it reflects and shines more or less or not at all. This can, in interaction with design and environment, appear elegant, luxurious, puristic or futuristic. Our edges are available in various degrees of gloss, from super matte to high gloss and in all the nuances in between. You decide how much gloss you want and we can produce individually according to your wishes.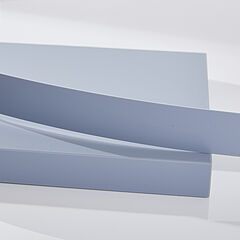 SUPERMATTE
Matte, robust and durable? We can provide you with scratch resistant and nearly marking resistant surfaces for thermoplastic edges: the SuperMatte coating not only stands out thanks to optical and mechanical advantages, but it is also unique to the touch. Its surface has a velvety feel.
Benefits at a Glance:
• Extremely scratch and marking resistant
• Pleasant feel thanks to velvety surface
• Modern design
• Highest optical quality
• Always perfectly matched to the panel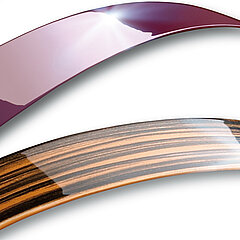 High Gloss
High gloss surfaces give colors a certain intensity. With us, you can get thermoplastic edges in nearly any conceivable color and gloss level. At the highest gloss level, a top coat ensures perfect surface finish. Many of our high gloss edge varieties are always available from stock via the Edgebanding Finder.
Benefits at a Glance:
• Topcoat in premium high gloss
• Modern design
• Highest optical quality
• Always matches the panel
• Many high gloss edges available from stock
Design
Design quality demands expectations
We are committed to design expertise and work towards it every day, to always be able to offer you the most relevant new designs.