Worktop Edges
Especially versatile
Every worktop needs an edge – for protection as well as for an elegant optical finish. Our worktop edges offer a high level of resistance to UV light and a unique level of design freedom. Because we constantly adapt our decors and designs to the new trends in the furniture industry, you are able to choose from a constantly growing range. Even complex patterns are possible with digital printing. For the kitchen or as a counter element, we produce the perfect edge according to your specifications – in any color and decor, in PP or ABS, from 0.8 to 2.0 millimeters thick and in repeat lengths of up to 2,000 meters (digital).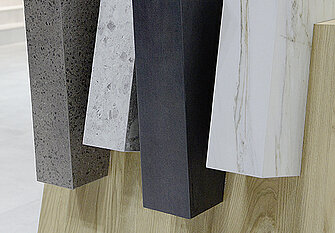 Design
Design quality demands expectations
We are committed to design expertise and work towards it every day, to always be able to offer you the most relevant new designs.