The Roller Shutter is a highly efficient door system which can be used in many applications in both horizontal and vertical situations. Their quick and easy assembly and high impact resistance means they're perfectly suited to the kitchen, shopfitting, commercial furniture and display sectors. Surteco Australia offers an extensive range of roller shutter systems, shutter mats, tracks, components and accessories in a wide variety of profiles, materials and finishes. Contact us for more information.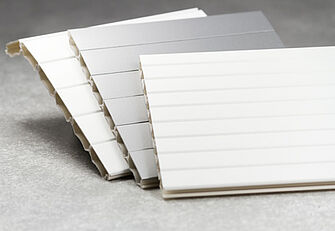 Materials and finishes
Advanced production techniques make the manufacture of innovative products possible - such as profiles covered in melamine surface laminate (FF), eliminating unsightly gaps and joints that disrupt the uniform colour effect while providing exceptional scratch resistance, abrasion resistance and colour fastness.
Ready to order in colours such as white, silver, charcoal and translucent we use only the best and most suitable materials such as Polypropylene, ABS and Aluminium to name a few.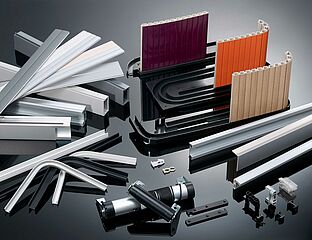 Accessories
Typical systems can include:
• Roller Shutter Mat - from Roller Shutter slats
• Pelmet/Lisene
• Running Track/Straight/90° Corners/Custom Bent Corners/Snails
• Lockbars with coordinating cover profile
• Gliders/Guides
• End Stop/Centre stop
Each component is perfectly adjusted to your specific situation. Contact us to help calculate the exact requirements for your order.
Design
Design quality demands expectations
That means that we are committed to design expertise and work towards it every day, to always be able to offer you the most relevant new designs.