Döllken Profiles is a dependable partner of Surteco Australia's. "The right skirting for every floor covering" is not only Döllken Profiles' credo, but also a promise. The variants of skirting boards, which ensure a perfect transition between floor and wall, are as diverse as the modern floor coverings. From the core product range of skirtings to the special profile - the location determines the model and Döllken Profiles make it possible.
The product range includes skirtings, stair edgings, transition rails, and floor-laying accessories. You will find their extensive collection of profiles and decors at: www.doellken-weimar.de/en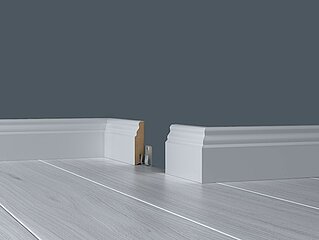 Materials
High-quality materials such as solid timber, MDF and veneer, to name a few, are used to create our skirting boards that combine aesthetics, quality and durability. With a wide variety of materials, colours and decors there is a skirting solution to suit every application.
Design
Design quality demands expectations
That means that we are committed to design expertise and work towards it every day, to always be able to offer you the most relevant new designs.